Featured Releases

"Farewell is wicked good..."
-Kirkus Reviews on Rootless

​​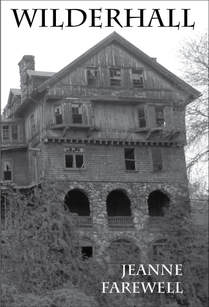 Wilderhall

a new novel by Jeanne Farewell


A famed actress disappears and a theater critic determines to find her.
In the process, he encounters a supporting cast intent on refiguring the
past.




"Clever....compelling....Wilderhall uses drama and show business as stages for a well-crafted, character-driven mystery. It's a fast, satisfying read, revealing the destructive nature of secrets and lies and the healing power of truth." -Foreword Clarion Reviews

---
| | |
| --- | --- |
| Cover Photograph by Jeanne Farewell | |
---

​

House Party

"a party that's not to be missed"
-Kirkus Reviews

A new novel by Jeanne Farewell​

On a visit to an old friend's B&B in Vermont, Sadie Putnam has an unexpected encounter with a man she once knew. What she had hoped to be a restoring country weekend turns instead into a conflict that brings to the fore the painful past she wanted to forget. Her fellow guests seem to have more clarity on other people's problems than their own, and what began as a simple house party becomes a series of revealing and transfiguring encounters.




---
"Farewell's novel feels much like a play as she skillfully sets the stage and populates her narrative with witty and complicated characters. The cozy Evergreen Inn is the perfect backdrop for scenes full of nuanced character development and well-scripted dialogue. Olivia, for example, is a Pandora's box of judgment, ego, and hypocrisy who incessantly pecks at her retiree spouse. Yet Farewell manages to balance Olivia's flaws with characteristics that render her admirable and even likable at times. Throughout the novel, the author provides ample opportunities for the characters to hash out their problems and air their grievances, peeling away the complicated layers of emotions like a chef with a sharp paring knife. This insightful study of relationships is a party that's not to be missed." -Kirkus Reviews


House Party Cover Illustration by Jeanne Farewell
Jeanne Farewell

Original Trade Paperback
212 pages
Fiction: Novel
ISBN# 978-168419588-6
Publication 2017
$15.95


---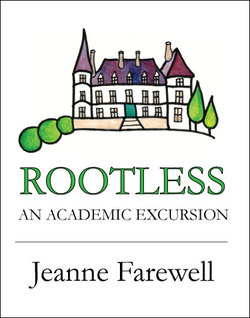 Rootless: An Academic Excursion
a novel by Jeanne Farewell
"Farewell is wicked good...
a tour de force in perceptive writing...
A clever contribution to that
popular subgenre, the satirical
academic novel"
-Kirkus Reviews
​
​
The discovery of a Victorian novel by Henry Radcliff
is big news in academia, providing much material
for scholars, biographers, and pundits. When
Professor Sarah Bolton arrives in Dublin for

a tour
that will take her and fellow members of the Henry
Radcliff Society on a journey to retrace the author's
footsteps. she little knows that the experience will
prompt her to question her own steps as well.
---
Rootless: An Academic Excursion
Jeanne Farewell

Original Trade Paperback
339 pages
Fiction: Novel
ISBN# 9780977850945
Publication 2014
$15.95

Cover Illustration by Jeanne Farewell


---